School Board Leaders Honored May 8
May is School Board Recognition Month and an opportunity for local schools and communities to honor Iowa's more than 2,000 locally elected school board members for their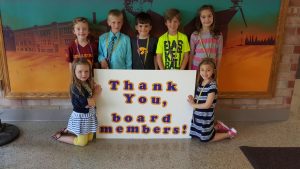 dedication to children and schools.
"Providing our community's children with a sound education is the most important investment we can make," said Corey Lunn, JCSD Superintendent "We're proud of our elected leaders in this community and want to thank them for their service. School Board Recognition Month is the time to say thank you and recognize their continuing commitment to our school."
In the Johnston Community School District, school board members develop policies and make decisions that impact the entire community. They are responsible for an annual budget of $126 million, Approximately 7,200 students, 1,000 employees and eight school buildings.
"School board members make critical decisions and oversee billions in educational expenditures," said Lunn. "They donate countless hours of personal time in service to Iowa students".
School board members will be recognized at a reception on Monday, May 8 at 4:30 p.m., preceding the May 8 board meeting. All members of the district community are invited to attend. The reception and board meeting will be held at the district's Administrative Resource Center, 5608 Merle Hay Road, Johnston.
The men and women serving the Johnston Community School District and their years of service are:
Mark Toebben (Board President) – Four years of board service
Brad Ortmeier (Vice President) – Four years of board service
Mari Cordaro – Eight years of board service
Deb Henry – Six years of board service
Greg Dockum – Six years of board service
Jill Morrill – 15 years of board service
Matt Stahr – Two years of board service
###