Graduation 2021 Information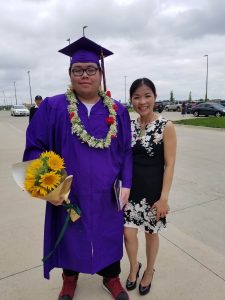 Please update your calendars for the Johnston High School Graduation Ceremony to, Sunday, May 23rd at 4:00 p.m. at the Johnston High School Stadium.  The rain date is Tuesday, May 25th at 7:00 p.m.
Each graduate may have up to 6 guests.
Masks worn appropriately are required for graduates and guests.
We are encouraging family units to carpool to help with parking and social distancing
Guests must come to the gate with the graduate to be admitted.  We can only permit 6 guests per graduate due to social distance guidelines.
Please socially distance your family unit in the stands.
The gates will open at 3:00 p.m., students MUST be in their seat in the gym by 3:15 p.m.

open 6:00 p.m. and in seats at 6:15 on Tuesday if rain date is necessary.

At the conclusion of the ceremony families are asked please exit immediately to your vehicle to maintain a safe socially distanced environment.
Students will return to the gym to pick up their diploma, no families or friends are allowed in the gym.
The high school will send out reminders and other pertinent information as we get closer to our ceremony.  Please contact the high school staff if you have any questions, at 515-278-0449. We look forward to celebrating with our Class of 2021!