More Than a Building
The Johnston Community School District is made up of one early learning center, five elementary schools – grades K-5, two middle schools – grades 6-7 and 8-9, and one high school – grades 10-12. Information on each school can be found below, along with a link to their website.
---
Johnston Early Learning Academy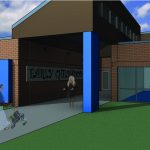 Programs for 2-, 3-, and 4-year preschool.
6207 NW 62nd Ave, Johnston IA 50131
Director: Joy Palmer
Office Hours: 7:45 a.m. – 4:15 p.m.
School Hours: Vary by program
Phone: (515) 727-5352
Fax: (515) 278-5884
Johnston Early Learning Academy Website
---
Elementary Buildings (K-5)

Beaver Creek Elementary
8701 Lyndhurst Drive
Principal: Eric Toot
Office Hours: 7:45 a.m. – 4:15 p.m.
School Hours: 8:40 a.m. – 3:35 p.m.
3-hour early dismissal: 12:35 p.m.
Phone: (515) 278-6228
Fax: (515) 278-1049
---

Horizon Elementary
5905 NW 100th Street
Principal: Lindsey Cornwell
Office Hours: 7:45 a.m. – 4:15 p.m.
School Hours: 8:40 a.m. – 3:35 p.m.
3-hour early dismissal: 12:35 p.m.
Phone: (515) 986-1121
Fax: (515) 986-1131
---

Lawson Elementary
5450 NW 62nd Avenue
Principal: Nikki Heidemann
Office Hours: 7:45 a.m. – 4:15 p.m.
School Hours: 8:40 a.m. – 3:35 p.m.
Dev. Kdg: 8:40-11:25 a.m. and 12:40-3:35 p.m.
3-hour early dismissal: 12:35 p.m.
Phone: (515) 278-0478
Fax: (515) 278-4851
---

Timber Ridge Elementary
7370 NW 54th Avenue
Principal: Kelley Harrison
Office Hours: 7:45 a.m. – 4:15 p.m.
School Hours: 8:40 a.m. – 3:35 p.m.
3-hour early dismissal: 12:35 p.m.
Phone: (515) 331-4379
Fax: (515) 331-9093
---

Wallace Elementary
6207 NW 62nd Avenue
Principal: Suzie Pearson
Office Hours: 7:45 a.m. – 4:15 p.m.
School Hours: 8:40 a.m. – 3:35 p.m.
3-hour early dismissal: 12:35 p.m.
Phone: (515) 278-6977
Fax: (515) 278-9894
---
Middle Schools

Summit Middle School (6-7)
9500 Windsor Parkway
Principal: Chris Billings
Office Hours: 7:30 a.m. – 4:00 p.m.
School Hours: 7:45 a.m. – 2:50 p.m.
3-hour early dismissal: 11:45 a.m.
Phone: (515) 986-0318
Fax: (515) 986-0952
---

Johnston Middle School (8-9)
6501 NW 62nd Avenue
Principal: Brent Riessen
Office Hours: 7:30 a.m.- 4:00 p.m.
School Hours: 7:45 a.m. – 2:50 p.m.
3-hour early dismissal: 11:45 a.m.
Phone: (515) 278-0476
Fax: (515) 278-0130
---
High School

Johnston High School (10-12)
6500 NW 100th St.
Principal: Ryan Woods
Office Hours: 7:30 a.m. – 4:00 p.m.
School Hours: 7:45 a.m. – 2:50 p.m.
3-hour early dismissal: 11:25 a.m.
Phone: (515) 278-0449
Fax: (515) 276-5795