The School Day Begins and Ends on the Bus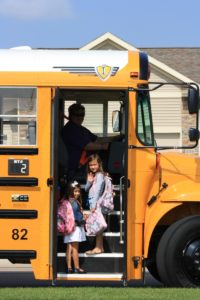 Providing safe, reliable transportation to and from school is a critical part of the school day. The Johnston Community School District is pleased to partner with Student Transportation of America (STA) to offer bus ridership to students in the district's boundaries.
All transportation-related questions can be directed to the STA office, 515-278-8149, or emailed to Katie McBride at kamcbride@ridesta.com. The office is located at 6350 NW Beaver Dr. in Johnston.
Visit Infinite Campus to view route information
 Non-Public Parent Reimbursement Request Form
SafeStop Mobile App
SafeStop is the mobile app that connects parents to the vehicles transporting their children. This free easy-to-use mobile app features neighborhood maps and a MapView bus locator. Using GPS technology, the app updates every 30 seconds to help you better plan for your busy day.
Learn how to download SafeStop onto your mobile device
Walk Zones
The Johnston Community School District uses a 1- mile walk zone for students in grades K-9 living within one mile of the school they attend and 2- mile walk zone for Johnston High School students, grades 10-12. When considering the walk zones, there were a number of factors examined, including: safety hazards such a busy roads and non-signal/light cross areas; the availability of sidewalks; and age of students walking these routes. Because each school's site is unique, the results for walking and busing zones vary. Parents can check transportation eligibility and their distance to their child's school via the Infinite Campus Parent Portal.
Paid Ridership
The Johnston Community School District offers an optional pay-to-ride student transportation program for K-12 students who are not eligible riders based on their distance to/from their school. Paid ridership is based on a space-available, or open-seats only, basis. This means that if there are seats available on a bus route, transportation will be provided for a fee. The decision for offering any available seats will be done so using a distance rubric for families (i.e. furthest from school receive first consideration).
Learn more about 2017-18 paid ridership details and specifications
Fill out a 2017-18 Paid Ridership Application
Bus Safety
Safety at bus stops and on the school bus depends on the cooperation and responsible behavior of every student. Parents are encouraged to review guidelines for getting on and off the bus safely with their children – as well as report any unsafe incidents they witness.
Learn more about bus safety guidelines
2017-18 Bus Rider Registration
If you will be riding the bus in the 2017-18 school year, please fill out the following form. Questions can be directed to the Johnston STA office at 515-278-8149.
2017-18 Transportation Information Form
Save
Save
Save
Save