In Support of our Asian American Pacific Islander Community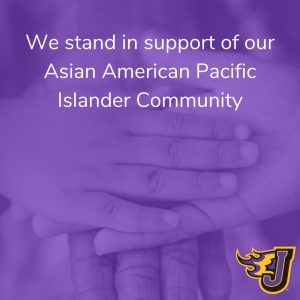 The recent news of hate crimes against the Asian American and Pacific Islander community (AAPI) have alarmed and saddened us in the Johnston Community School District. As a school district, we value equity, diversity and inclusion, and we oppose the intolerance members of the AAPI community have faced in our country.
We stand in solidarity with our students, families and staff who are experiencing direct and indirect trauma as a result of recent events or have experienced any racist comments, bullying or attacks. JCSD is committed to providing a safe, welcoming and inclusive environment for everyone in our community. We firmly believe that establishing a sense of belonging in community with others is fundamental to our work of helping all people realize their infinite possibilities.
In January, our staff underwent training in empathic listening to assist students during difficult times. Staff in our schools are prepared to support students who need someone to talk to about their experiences. Please reach out to your child's teacher or counselor if you have any concerns. Additional resources are provided below that may be helpful for parents and educators as you discuss these recent events with children.
Resources
The National Association of School Psychologists (NASP) provides the following information for parents and educators to talk with children about violence:
Additional reminders from NASP include:
Reassure children that they are safe
Make time to talk
Keep your explanations developmentally appropriate
Review safety procedures
Observe children's emotional state
Limit television (and social media) viewing of these events
Maintain a normal routine
An inclusive, just, and compassionate JCSD starts with treating all citizens and community members with kindness, respect and trust. We are here to help. It is important that as valued members of our community, we all listen to and support one another through this difficult time.
Thank you,
Ms. Laura Kacer
JCSD Superintendent