JHS Named "Best" High School in National Report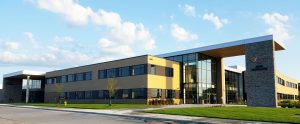 The 2021 U.S. News and World Report Best High School rankings have been released and Johnston High School has been named sixth among Des Moines metro-area high schools, 22nd in the state, and 3,636th in the nation. The high school earned a "Best" ranking, a commendation reserved for the top 40% of schools in this ranking program. U.S. News "Best" badges are widely recognized as symbols of excellence in U.S. education.
"This ranking is yet another quality indicator of the level of education offered in Johnston schools," said Bruce Amendt, Associate Superintendent. "From our pre-kindergarten programs to our Advanced Placement classes, our students are excelling in their learning and raising the standard of quality education in central Iowa."
The 2021 U.S. News and World Report Best High Schools rankings are based on data collected from more than 24,000 public U.S. high schools, along with charter, magnet, and STEM schools. A revised methodology from U.S. News uses six ranking factors, each of which are weighted to produce an overall score that the ranking is based on.
The ranking factors measure performance on state math and reading proficiency tests and performance; Underserved student population performance on assessments; college readiness measured by participation in and performance on challenging college-level coursework using Advanced Placement and International Baccalaureate examinations; and graduation rates.
Rankings are produced in conjunction with RTI International, a global research firm. U.S. News doesn't collect data directly from high schools – all data comes directly from official third-party sources. U.S. News receives AP and IB data directly from the College Board and International Baccalaureate, respectively, for use in the rankings. The state assessment data and graduation rates are from each state, and other data comes from the U.S. Department of Education Common Core of Data.
"We credit the dedication and hard work of our educators, the involvement of our parents, and the determination of our students for this ranking," Amendt said. "We are extremely proud of the accomplishments of our students."
By the numbers
Students / Teachers
These counts and percentages of students and teachers are from data reported by schools to the government.
| | |
| --- | --- |
| Total Enrollment | 1,668 |
| Total Minority Enrollment (% of total) | 25% |
| Total Economically Disadvantaged (% of total) | 21% |
| Full-Time Teachers | 81 |
Test Scores (at JHS)
U.S. News calculates these values based on student performance on state exit exams and internationally available exams on college-level course work (AP®/IB exams).
| | |
| --- | --- |
| Proficient in Reading | 82% |
| Proficient in Math | 79% |
| College Readiness Index | 21.5/100 |
School Data
School profile information is based on government data.
| | |
| --- | --- |
| Graduation Rate | 97% |
| Grades Served | 10 – 12 |
| Setting | Large Suburb |
| Charter School | No |
| Magnet School | No |
| Receives Title I Funding | No |