Mask Up to Keep Numbers Down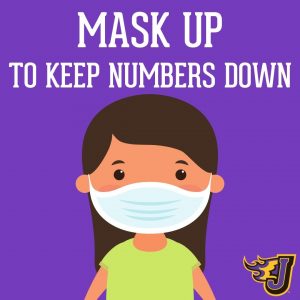 The following message was sent to district staff and families on behalf of Superintendent Laura Kacer on April 13, 2021.
As the weather warms up and COVID-19 vaccines become more plentiful, it's a natural reaction to let our guard down in terms of virus mitigation and safety.
However, numbers in our state and across the country indicate that it's not yet time to let our masks down – literally or figuratively. With just two short months left to go in the school year, we CAN do the work to keep our numbers of COVID-positive and quarantined individuals low. We have all gone to great lengths this year to wear our masks, stay home when we're not feeling well, and take extra measures to keep germs at bay. I'm asking you to continue those efforts to keep our community safe.
At the April 5 board meeting, the board was informed that our schools had no plans to ease up on safety mitigation plans, including mandatory masks in schools and as outlined at sports/activity practices/games, limited visitors in schools, revisions to end-of-year celebrations, and much more. Our high school team has put a lot of work into planning safe prom and graduation events; we need our community to do their part and ensure students are healthy so they can attend and enjoy these milestone celebrations.
Thank you for your help in keeping Johnston students and staff healthy as we enter the end of the school year.