Reminder: Masks are Mandatory on Buses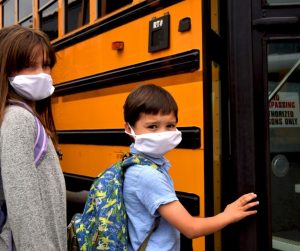 At the beginning of the 2021-22 school year, there had been conflicting state and federal guidance on how the CDC mask order applied to school buses. With a federal judge's ruling in a larger case on Sept. 13, 2021, it is now clear that masks must be worn by students and transportation personnel while on the bus.
Moving forward, masks will be required when students are on school buses, beginning Monday, Sept. 20, 2021. There will be progressive disciplinary measures, similar to last year, for bus riders who do not comply with the mask mandate. If this change in our practice causes your family to alter your mode of transportation to/from school, please notify our transportation department at 515-278-8149 and your child(rens) school so we can update our transportation routes.
If your child(ren) qualify for a medical or religious mask exemption, you can access, print, and return the form found here:
2021-22 JCSD Mask Exemption Form