Eidahl Named JCSD Chief Financial Officer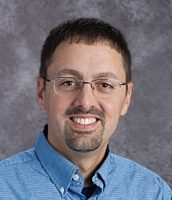 Johnston, IA – October 11, 2021 – Ryan Eidahl has been hired as the district's Chief Financial Officer, assuming the position after Jan Miller-Hook retires to become Iowa School Finance Director for IASB at the end of the year. Eidahl joined the district's finance team as Director of Business Services in 2018.
As the Chief Financial Officer, Eidahl will help to continue to lead the district's long standing reputation of being financially healthy. Ryan will have direct oversight in helping the district and school board make financial decisions that are in the best interest of the district and provide resources that support the goals of our Strategic Plan.
"I am excited and honored to continue my professional career with the Johnston Community School District," said Eidahl. "Johnston is known for their excellent financial health, as well as their excellence in education, and I look forward to continuing that trend in both."
A few of his essential responsibilities will include oversight and management of our fiscal reporting and budgeting. In addition, Ryan will also directly support the Nutrition, Buildings and Grounds, Technology and Transportation Departments.
"Ryan brings a wealth of financial knowledge to this position. He has proven himself in his current role and is a well-respected and trusted member of our leadership team," said Superintendent Laura Kacer. "We very much look forward to Ryan's leadership and financial oversight, fiscal management and focus on student achievement."
Before coming to the Johnston Community School District, Eidahl was the Business Manager of the Saydel Community District, where he oversaw all financial aspects for the district, including preparing all financial data for the School Board. Eidahl also brings past experience as a Lead Auditor for an accounting firm, overseeing an audit team serving over 125 Iowa school districts.
Eidahl holds a Bachelor's Degree in Accounting from University of Northern Iowa and an Associate's Degree in Business from Iowa Lakes Community College. He is also currently serving on both the Leadership Committee for the Iowa Association of School Business Officials and the Professional Growth Advisory Committee for the Iowa School Business Management Academy.
###