42nd Annual JHS Madrigal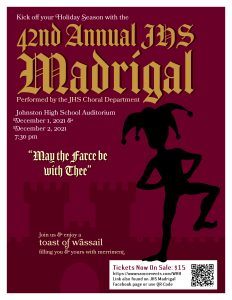 HEAR YE, HEAR YE! Tickets are now on sale to the public.
The Lord and Lady of the Manor request your presence at the 42nd Annual JHS Madrigal.
Show Dates
Wednesday, December 1, 2021 at 7:30 pm
Thursday, December 2, 2021 at 7:30 pm
Auditorium Doors will open at 7:00 pm
Venue
Johnston High School Auditorium
6500 NW 100th Street, Johnston, IA 50131
Audience parking will be on the south side of the building in the student parking lot.
Please enter the building through Door Number 2
Purchasing Tickets
https://www.vancoevents.com/WHH
NO LIMIT ON NUMBER OF TICKETS TO PURCHASE – TICKETS MAY BE SCANNED OFF YOUR PHONE OR PRINTED AND BROUGHT TO THE EVENT.
The seat numbers selected at the time of purchase will be the seats reserved the night of the performance. Seat changes or requests for different seats will not be accepted once tickets have been purchased.
There is a time limit on how long the seats can be held without purchasing. If the session times out due to non-purchase, reopen the link and check the cart to see if the selected seats are still in the cart before adding additional seats. Tickets maybe purchased for both nights at the same time. Again, no limits on ticket purchase. If you have a wheelchair or any other special needs, please reach out to the volunteer coordinator at jhsvpa.volunteercoord@gmail.com for assistance.
A light refreshment reception will be held in the commons following the performance.
Be sure to check out and LIKE the JHS Madrigal FB page for updates, pictures and other information.