Johnston storm damage featured by The Weather Channel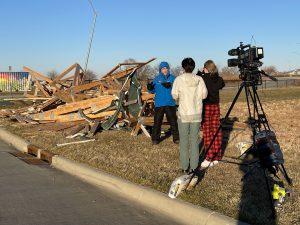 Johnston was on the national news this morning. The Weather Channel arrived at Johnston High School at 5 a.m. and has been broadcasting the storm's impact on the Outdoor Learning Environment (OLE) at the top and bottom of every hour.
The Outdoor Learning Environment, which featured an open-air shelter that was to be used as an outdoor classroom, had been in the works for five years and was just completed two months ago. A ribbon cutting was held Oct. 20. Industrial technology, science and art students were all involved in the project. 
The shelter was destroyed in the storm. Johnston public works on Wednesday night moved the remnants of the shelter out of the roadway at NW 106th Street and Catalina Drive.
Weather Channel meteorologist Mike Seidel said the storm included a squall line with 61 mph gusts, followed by gradient winds up to 74 mph. Seidel interviewed JHS science teachers Sara Kate Howe and Kyla Burns, who spearheaded the project that transitioned a retention basin and the five acres around it into a learning environment for high school students that would provide hands-on experiences in natural systems.
Meanwhile, JHS journalism students had the opportunity to cover a news story in their own backyard. Students London Heim, Matteo Lokmic and Raegan Rodda were at the Outdoor Learning Environment on Thursday morning shooting pictures and video, and interviewing Seidel, Howe and Burns.
The project was supported by both the Johnston Community School District and the Johnston Community School Foundation, which will be assessing the damage and determining the cost of repairs. To learn more about the project, go to www.wearejohnston.coThem/outdoorlearningenvironment