Middle school mock trial teams honored for outstanding performance
Four teams competed at the regional competition in November. Three of those teams made it to the state competition held at the beginning of December. At state, each team competed in three trials over a 2-day period.
Team purple finished the state competition as a semi-finalist and also received the Anthony Critelli award for outstanding conduct and decorum during competition. This award is voted on by all the teams competing at state and is a huge honor!
Harrison Burkhardt and Lucy Kiekhaefer received outstanding awards for their portrayal as a witness (Harrison) and attorney (Lucy) during the state competition. Many of the other members of the Johnston teams also received honorable mentions for their performances as attorneys and witnesses.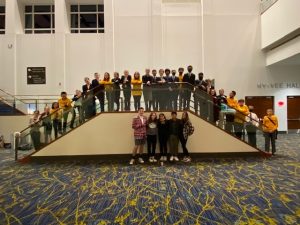 Johnston mock trial consists of 7th and 8th grade students in groups of eight to 10 who study and learn both sides of a hypothetical course case. They play roles as attorneys and witnesses and compete with other teams across the state. Johnston mock trial teacher sponsors are Molly McConnell (ELP teacher at JMS) and Colleen Ites (ELP teacher at Summit).