JHS awarded grant to restore prairie, help insect pollinators and monarch butterflies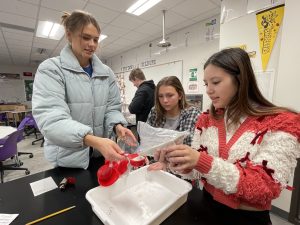 JOHNSTON, Ia. (Dec. 29, 2021) — Johnston High School is among 12 Midwest high schools awarded $1,000 pollinator habitat grants from the Sand County Foundation, which will be used toward restoring the prairie just southwest of the high school.
Kyla Burns, who teaches biology, zoology and AP environmental science at Johnston High, has for the past seven years led the Outdoor Learning Environment project that includes the prairie.
"We were trying not only to have a place for the kids to learn, but also a place where we could apply the science concepts we're learning in class towards restoration," Burns said. "Having students work on a prairie restoration teaches them about the importance of prairie plants in filtering water quality, and for conserving habitats."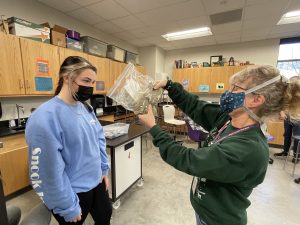 Insect pollinators are essential for food production and ecological diversity, but their populations are at risk. The Sand County Foundation grant program is an effort to increase the diversity of native plants for the benefit of imperiled insect pollinators including native bees, honeybees and monarch butterflies.
As part of the grant, Johnston High School recently received native wildflower seeds and seedlings, a training webinar, consultation and $1,000 for prairie restoration. Students in Lisa Horsch's botany class worked to prepare the seeds before winter break. The nearly 600 seedlings include milkweed, prairie blazing star, wild bergamot and other species.
"These seeds are all native northern prairie seeds so they're used to going through wintertime," Horsch said. "To get them to grow in the spring, they need to have gone through a cold snap of some kind that will help them better germinate. We'll have to leave them in there for eight weeks. It's called cold stratification and it makes the plants think they underwent a wintertime, so they will then germinate when we start growing them in the greenhouse in February."
The latest grant will help to continue and expand the work of the prairie restoration near Johnston High School that's been underway for seven years. Burns said recent weather damage to the outdoor shelter should not impact the prairie.
"We've already invested in clearing that prairie area," Burns said. "The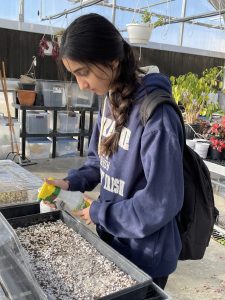 restoration is already in process. This grant will help us have more diversity in the forbs, the flowering plants out there. Not only is our prairie a restoration, but it's also going to be a pollinator habitat. We've started encouraging more flowering plants. It's kind of a cool addition to what we already started out there."
Parker Witt, an agricultural conservation specialist with the Sand County Foundation, said the objective of the grant is to engage students in adding native wildflower diversity to the agricultural landscape for the benefit of pollinators.
"Pollinators are essential for crop pollination and ecological diversity, but the numbers of wild bees, honey bees and monarch butterflies have dropped, partly because of the loss of native wildflower habitat near farmland," Witt said.
To qualify for the grants, schools needed greenhouses or suitable indoor growing areas to germinate and raise the seedlings. They also needed to identify and prepare a location to transplant the native wildflowers in the spring, and tend to them through the summer. Johnston High School has both a greenhouse and a prairie.