Serving Our Schools and Community
The Johnston Community School District Board of Education is made up of seven elected community members and two student representatives. Board elections are held every two years. Each board member brings a unique perspective to the district and uses background experiences, current practice, and feedback from district stakeholders to guide their decision-making process. The Johnston Community School District Board of Education works closely with the Iowa School Board Association to ensure compliance on all matters.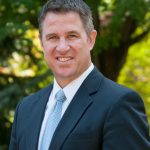 Justin Allen, Board President
Term expires 2021
9816 Ashton Dr
Johnston, IA 50131
Justin was born and raised in the Johnston School District.  He and his wife, Tiffany, graduated from JHS in 1993.  Their son, Grant, is in 11th grade at Johnston High School and their daughter, Audrey, is in 8th grade at Johnston Middle School.  Justin has been active in the Johnston community coaching youth sports and academic teams, as well as volunteering for school and alumni events.  He is a partner at the Brown Winick Law Firm.  Justin was elected to the board in 2017.
Contact Justin: Phone 515-205-8193 | Email: justin.allen@johnston.k12.ia.us
Dr. Jeanie Kerber, Board Vice President
Term expires 2021
8902 NW 72nd Pl
Johnston, IA 50131
Jeanie and her husband Jeff have lived in Johnston since 2002. They have three children, Joe (9th grade), Josh (7th grade), and Elsa (5th grade). Jeanie attended Drake University and earned a Bachelors of Arts and a Masters in Public Administration. Jeanie continued her education at the University of Iowa where she obtained her Masters in Social Work and is a Licensed Independent Social Worker (LISW) and Certified Alcohol and Drug Counselor (CADC). She recently completed her Ph.D. in Education from Iowa State University. She has spent more than 15 years practicing in a variety of areas in Social Work including, treatment facilities, schools and medical clinics. Jeanie continues to consult and provide clinical supervision for therapists. She has started her 12th year at Des Moines Area Community College as a Professor in Human Services. Jeanie is active is supporting youth activities and volunteering in the community. She was elected to the board in 2017.
Contact Jeanie: Phone 515-783-2779 | Email: Jeanie.Kerber@johnston.k12.ia.us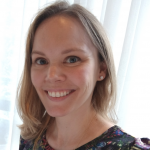 Jennifer Chamberland
Term expires 2023
8845 Northpark Ct #225
Johnston, IA 50131
Jennifer is a native Iowan who recently moved back after a spending a decade on the East Coast. She attended the University of Iowa, and has a background in Accounting, Finance, and Federal law enforcement.
Her children are at varying education levels, with a wide age range, which provides a unique opportunity to experience the district from multiple perspectives. Prior to moving back to Iowa, Jennifer served on her local school board. She looks forward to serving the Johnston community through her strengths in budgeting and policy making, as well as working to efficiently and effectively move the district forward.
Contact Jennifer: Phone 319-573-8436 | Email: jennifer.chamberland@johnston.k12.ia.us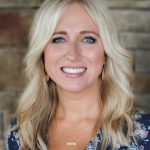 Alicia Clevenger
Term expires 2023
6738 Branwell Ct
Johnston, IA 50131
Alicia Clevenger is a proud mom to three kids in the Johnston Community School District. She and her husband, Jason, chose to move to Johnston over 15 years ago with great schools being the motivating factor. Henry (11) and Mira (8) attend Beaver Creek Elementary and Maggie (4) attends Johnston Early Learning Academy.
Alicia's background is in healthcare, with a Biochemistry Degree from Southern Illinois University, Doctorate of Chiropractic from Palmer College and postgraduate work becoming a Board Certified Pediatric Chiropractor. She has been in private practice for 16 years and loves working and interacting with kids. In more recent years she practices part time, works from home and owns two small businesses.
Community service is very important to Alicia and her family. They have served the Johnston community through their children's activities for almost a decade. Alicia has been a Big Sister through Big Brothers Big Sisters of Central Iowa and a speaker on behalf of Iowa Donor Network. Volunteering in her children's classrooms has given her first hand appreciation of Johnston schools. She has also had the opportunity to be the homeroom parent for her children's classes every year as well as a PTO committee chair.
Contact Alicia: Phone 515-865-8706 | Email: alicia.clevenger@johnston.k12.ia.us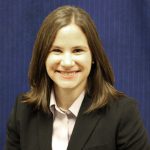 Katie Fiala
Term expires 2023
5665 Columbine Dr.
Johnston, IA 50131
Katie Fiala and her husband Austin are both 2004 Johnston graduates. Their twins will start kindergarten next year, and their youngest attends Johnston Early Learning Academy. Katie received her law degree from the University of Iowa College of Law and undergraduate degree from Iowa State University. She has worked as an Assistant Attorney General for the State of Iowa since 2013, and has worked in public service for her entire career. Katie is an active supporter of community youth activities and currently serves on the Johnston Public Library Board of Directors. Katie was elected to the school board in 2019.
Contact Katie: Phone 515-216-0056 | Email: katie.fiala@johnston.k12.ia.us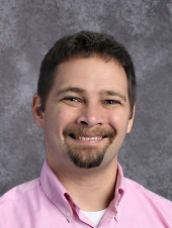 Steven Hopper
Term expires 2021
1012 NE Silkwood St.
Grimes, IA 50111
Steven and his wife Bethany are native Iowans who moved to the district in 2014.  Their twin boys, Sam and Quinn, attend fourth grade at Wallace Elementary.  Steven is an 12-year public educator and currently serves as the curriculum technology coordinator for Ankeny Schools.  He holds a master's in educational leadership and an undergraduate degree in elementary education, both from Iowa State University, and was selected as a Google Certified Innovator in 2016.  Steven was elected to the board in 2017 and looks forward to serving the Johnston community.
Contact Steven: Phone 515-231-2965 | Email: Steven.Hopper@johnston.k12.ia.us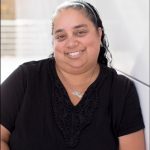 Soneeta Mangra-Dutcher
Term expires 2023
6009 Nottingham Dr.
Johnston, IA 50131
Soneeta and her family moved to Johnston in 2009 from Des Moines. Soneeta is the Operations Director at Central Iowa Works, United Way of Central Iowa. She has been with CIW since September 2012. Before that Soneeta was a GED instructor and the Adult Literacy program consultant at Des Moines Area Community College. Soneeta graduated from DMACC with her Associates degree and Upper Iowa University with a Bachelors in Psychology.Outside of working with employers, community organizations and job seekers at CIW, Soneeta mentors young adults earning an alternative high school diploma with Iowa NetHigh Academy, leads a suicide prevention and mental health awareness organization, Stand for the Silent Central Iowa and co-leads the Polk County Suicide Prevention Coalition. Soneeta's most important role is mom and she spends as much time as she can growing, learning and experiencing life with her three daughters, Kitarrah (JHS 2017), Sierrah (JHS 2020), and Marandah (JHS 2021).
Contact Soneeta: Phone 515-279-4355 | Email: soneeta.mangradutcher@johnston.k12.ia.us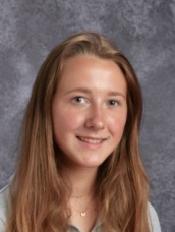 Jenna Woodsmall
Term Expires 2022
Student Representative
Johnston High School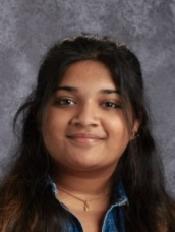 Sowji Kondety
Term Expires 2022
Student Representative
Johnston High School